His work hangs on the gallery wall.
We hear its buzz.
We're in its thrall.
Each piece still humming with the thrum.
As strong as when the work was done.
That clay was soft and took the mould
Of artist's hands and brush strokes bold
Laid down their layers one by one
Upon the canvas taut as drum.
And so lives on the artist tutor.
Who has a past as well a future.
Whose work transcends the passing years
Through others' eyes and hands and ears.
We hear the echo loud and clear.
The artist lives! Ne'er shed a tear.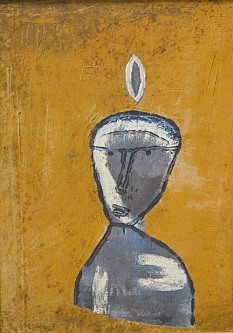 ---
These words came to me after attending a preview of the Man and Light exhibition running at Gallery 131 on Corve Street in Ludlow until March 19th.  The exhibition celebrates the work of the Midlands artist Arthur Berridge (1902 – 1957). Opening it the sculptor Stephen Cox RA explained how Berridge was underrated – both as an artist and as a teacher. It struck me then that echoes of the creative compulsion that drives artists like Berridge and Cox reverberate indefinitely: directly through their work (and more loudly when many works are brought together in one place); and indirectly through the work of others they've taught.
I heard these echoes and wrote them down.
Richard Uridge