I should have seen it coming. The van that is. Three thousand miles across car-obsessed, gas-guzzling America without a scratch. Three hundred miles in bike-obsessed, pedal-pushing Holland and…
I'd arrived in the Netherlands a few days earlier to put in some training for Ride for Willen 2015 – an eight day, 800 mile ride from Paris to Nice via two Tour de France summits in aid of Willen Hospice. Not, on the face of it, an ideal place to prepare for a ride that takes in Alpe D'Huez and Mont Ventoux. But my thinking was this: what the country lacks in vertical ascent it more than makes up for in bike friendliness. And, I have to admit, beer. Those seductive blonds that at the end of a long session make you realise just why you took up cycling in the first place – to eat and drink what you want.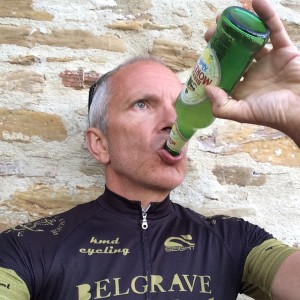 Beer apart, the Dutch don't do things by halves. There are dedicated cycle lanes in virtually every major town and city. The tarmac is smooth. The demarcation lines freshly painted. Why, there are even traffic lights just for bikes! And even where two and four wheels share the same bit of carriageway, drivers behave so impeccably towards cyclists that you can get your head down and concentrate on your training regime without worrying about where the next threat is coming from. It's probably because, when they aren't behind the wheel, motorists are themselves cyclists. You see everybody in Holland rides a bike. All except one.
…without an alstublieft the driver of the black Renault Trafic (funny how you notice these little details) a wheel-length or two ahead of me swerves into the cycle lane to avoid a car pulling out of a side road. I swerve too. But the hastily- executed manoeuvre only results in a face plant on the van's right rear door instead of the van's left rear door. I say face plant. It was more of a head plant, as I had just enough time, or instinct, to tuck in my chin to let my helmet take the full force of the impact. Which it did very well. Though it's a shame cycle gloves aren't made out of the same material because my right thumb took the next full force – of my impact with the black top. It's only when you break such a small and apparently insignificant bone that you realise just how significant it really is. With one hand's worth of opposable digits out of action for at least a fortnight,  you don't need an evolutionary biologist to tell you that human beings wouldn't have made it down from the trees without fingers and thumbs. Hell, they probably wouldn't have made it out of the water and up to the trees in the first place.
So next time you're asked why fish don't wear shirts you'll know the answer: without thumbs they can't do up the buttons!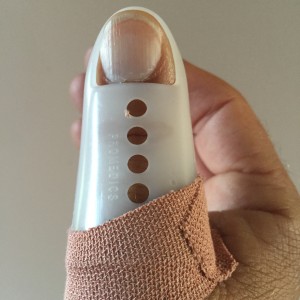 Back home the nurse in the minor injuries unit at Ludlow Hospital (note to NHS do NOT close it) entered the word TOOSH in my medical notes. Ever the journalist I asked him what it meant. "Trauma on out-stretched hand'" he said.
"No trauma at all," I replied. "Not compared to those at the end of their lives being cared for at Willen Hospice."
You can donate to this exceptionally good cause on my Just Giving page. Please do. I'll give you a thumbs up.